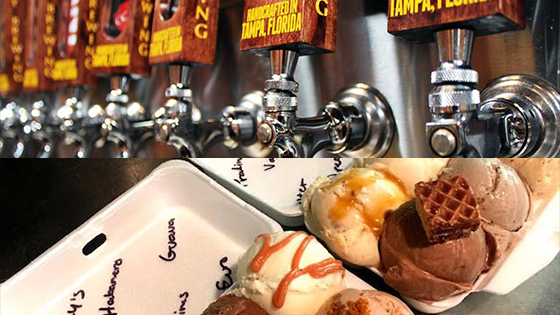 Alright Tampanians, we've essentially laid out the perfect Tampa day for you and your friends. From having fun in the sun with outdoor activities, to listing the best places to grab a bite to eat, we have now landed into our latest installment: Sweets + Drinks. What's the perfect Tampa day without a little nightcap to top it all off? Take a look as we break down our top breweries, bars and dessert destinations.
Our Picks: Breweries
If you're a craft beer connoisseur, you've made the right choice coming to Tampa. The local areas (including St. Petersburg) are nationally recognized for craft beer. With plenty to choose, taste and enjoy, we picked just three to help entice you to check out more!
Photo by Cigar City social
Hours: Monday- Sunday 11am-11pm
The OG of Tampa, Cigar City opened right before the craft beer bomb detonated. Located off Spruce Street, their tasting room is home to many national recognized brews. Their holy grail? Hunahpu's Imperial Stout. This beer is a Tampa gem. Every year, thousands of people, locally and nationally, congregate to the Tampa Convention Center to grab this beer. Next year, Raymond James Stadium will hold this special release. This brew is released once a year, so mark your calendars for the next drop!
Hours: Sunday-Wednesday 12pm-11pm | Thursday-Saturday 12pm-1am
7th Sun calls Seminole Heights their second home to some of the most mouth-watering Sour, Saison and Farmhouse concoctions. Originally from Dunedin, their second space includes large social areas including outdoor seating and live music! This is a great spot for those craft beer fans who have a sweet and sour tooth.
Hours: Monday-Thursday 11am-11pm | Friday-Saturday 11am-12am | Sunday 11am-9pm
Located just outside Ybor City and across the street from IKEA, Coppertail is recognizable for its two stories — once home to the largest brewhouse in the Tampa Bay area. Their holy grail of beers include the Free Dive, Unholy, Night Swim and Independent. Complete with delicious bar food, Coppertail is a guaranteed good time.
Our Picks: Bars
We selected a couple places to enjoy a stiff drink in case beer isn't your choice of beverage.
Photo by @itsyasss
Hours: Wednesday-Sunday 5pm-2am | Monday-Tuesday 5pm-12am
This one is for all our Tampanians that like a good excuse to dress up, drink gin and be surrounded by eccentric decor. Just about a year old, Gin Joint is located next to The Vault in downtown Tampa and is relatively inconspicuous to the eye. Just inside sits a lush environment with lowlights, plush seats and gorgeous mirror-backed bar. The service is always enjoyable and attentive with the food and drinks knocking it out of the park. Not a gin drinker? Not to worry, they have plenty of drinks and libations to provide the perfect nightcap.
Photo by @gabrieldeterre
Hours: Monday-Thursday 4pm-2am | Friday 4pm-3am | Saturday-Sunday 4pm-12am
Also located in downtown Tampa, Hotel Bar is a small space that packs a tasty punch. Impeccably decorated, grab their fantastic bread plate and a libation when everywhere else starts closing down. Of course, the drinks are fantastic! You wouldn't expect anything less in here. Usually packed on the weekends, this is a spot to come to late night during the week. Possibly after a date night!
Photo by @evaclairecorp
Hours: Monday-Wednesday 4pm-1am | Thursday 4pm-3am | Friday 2pm-3am | Saturday 12pm-3am | Sunday 12pm-3am
This one is a Seminole Heights favorite! Show up as you are and order what you want, this place is always welcoming and full of fun banter. Sit inside to enjoy karaoke or outside for the live music. No matter where you sit, you'll feel the rock' n' roll vibes this bar was themed after. Need a spot to watch the game? Red Star Rock Bar has got you covered.
Our Picks: Desserts
Just in case you didn't order dessert with your dinner!
Hours: Monday-Thursday 11am-11pm | Friday-Saturday 11am-12am | Sunday 11am-5pm
Sometimes you just want to top off the night with some desserts! If so, Bake n' Babes has your number. Belgian waffles, toppling milkshakes and mini key lime pies are
among the kinds
of treats to expect when you walk up to the counter. Located inside
The Hall on Franklin
, we first tried Bake n' Babes for their sleazy brownie
—
a baked good made from brownie, cookie dough and Oreos. Baked to perfection, we became a huge fan of this sweet spot after inhaling this dessert!

Hours: Monday-Saturday 12pm-10pm | Sunday 1pm-9pm
Be adventurous with Chocolate Habanero or Eurotrash flavored ice cream! Revolution is home to some of ice cream's most interesting flavor pairings. Make it fun by trying a blind taste test to see which flavors you can recognize! Or go all-in on Chocolate Habanero. Either way, it's a surprisingly delicious good time with whatever ice cream you choose!
Hours: Monday-Thursday 6:30am-6:30pm | Friday 6:30am-10pm | Saturday 7:30-10pm | Sunday 7:30am-6:30pm | Late Night Walk-Up Window Friday & Saturday 10pm-12am
If a sleazy brownie or ice cream isn't your sweet nightcap of choice, try your luck with some mini-doughnuts. Yes, doughnuts, not donuts. The Mini Doughnut Factory is filled to the brim with bite-sized fried dough with flavors you routinely dream and drool about. Best part? You can buy them in packs according to your craving! 3-pack, 6-pack, 16-pack or just splurge on the 25-pack. We won't judge you!
No matter what kind of nightcap you have, Tampa has the perfect options to satisfy those taste buds. What are your favorite spots?
—-
Need a way to get around post-nightcap enjoyment? Take one of the many forms of transit Tampa has to offer here.